Hey Guys, just thought i would throw my wagon on here for u's to check out.hope u like!
Name: Luke P
Model: 1989 Vn V8 (5 speed) Berlina commodore wagon.
Colour: Baked 2pac Marinello Red
Bodykit: Vy clubsport front bar,Vx clubsport rear bar customised to suit Vy side skirts and Vn group A bonnent bulge.
Engine Type: 304ci 5L EFI
Engine Mods: custom cold-air intake,K&N panel filter.
Power: est: 200hp
Exhaust: Custom extractors into Dual twin cats then into single 2.5 inch cat back.
Gearbox: T5 with heavy duty clutch.
Diff: 3.08 lsd
Brakes: V8 brakes and booster.
Suspension: All new Nolthane bushes with superlow pedders springs,Monroe GT Gas shocks.
Wheels/Tyres: 17inch enix rims with Fulda tyres.
Interior: Berlina trim with Autotechnia wheel and bucket seats,Vs Calais backseat.
Stereo: Sony Dvd player,sony playstation,Sony splits,Sony 6x9s,2 Sony 15inch subwoofers in custom box run by Sony amplifiers.
Build Period: Ongoing
Cost: $10geeezz[IMG][/IMG]
Future Mods: Turbo or Supercharger!,with this a full motor rebuild with cam,lifters,stud kits,forged pistons,ported heads,GrpA manifold and intercooler on about 10-14 pound.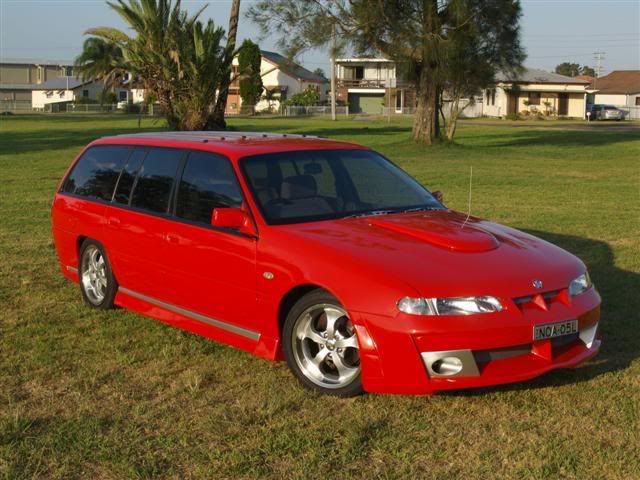 This what it looked like when i bought it.lol
comment please.
Cheers Luke.