The very best V6 and LS V8 OTR brands
are all available at TUFF CAR PARTS
Now also available for pick up in-store. Not a local? Not a worry. Tuff Car Parts now proudly offers free postage across our entire product line to anywhere in Australia! Whether it's a small set of injectors, an OTR or a massive fuel cell, whether you live in the Sydney CBD or regional NT, we're going to pick up the freight.
Harrop Engineering has been manufacturing in Australia a wide arrangement of performance and racing products in their Preston facility in Melbourne for 60 years.
Everything from OTRs, superchargers, camshafts and manifolds - so you can rest assured that this pedigree guarantees you a truly high-quality intake at the sharpest price of any VE-VF OTR currently available.
The two-piece construction clamps the K&N filter element between the two intake halves creating a 100% air tight seal.
MAFless variants and panels also available through Tuff Car Parts.
Australia's best-selling intake has just been improved even further. The team at VCM Performance have addressed inherent issues found with the previous version, and have produced what is now one of our favourite OTRs of all time. When combined with the OE style panels in this bundle it creates a truly clean look along with incredible power.
Our bundle includes the VCM Infill Panel which covers the hole left when removing the factory airbox, keeping up with the complete look whilst also reducing debris from damaging the engine bay. As well as this the bundle comes with two side Fascia Panels, which sit flush alongside the OTR to give a truly OE finish.
MAFless variants also available through Tuff Car Parts.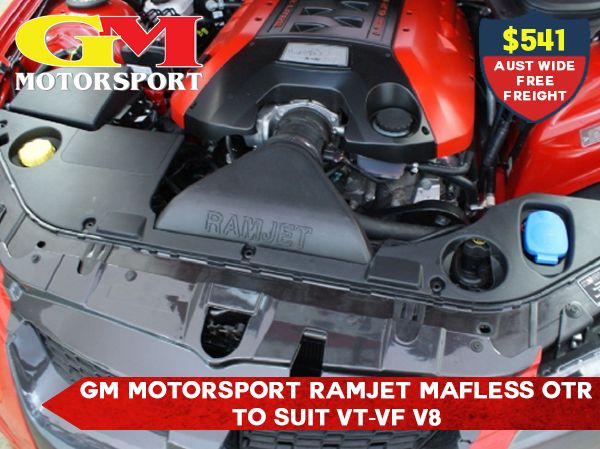 The Ramjet was one of the first OE style OTRs on the market for the VE-VF range and continues to be loved by performance shops and enthusiasts for good reason - it will easily bolt-on up to 32hp.
Ramjet is constructed from a heavy duty OME style plastic that is strong, lightweight and able to keep the intake charge cooler than anything else on the market thus resulting in huge power gains.
The Ramjet is responsible for some impressive records:
• Fastest cam-only SS Commodore (cam, exhaust, OTR and tune) running a 10.87 quarter mile time at 128 mph – a record that has not since been beaten
• Fastest Bolt-on VE (1/4 mile)
• Fastest cam-only VE/VF (1/4 mile)
• 2014 Motor Magazine Hot Tuner fastest lap time of all Australian rear driven cars inclusive of those with camshaft, supercharger and turbocharger upgrades
• 2014 Motor Magazine Hot Tuner highest engine output for a bolt-on only VF
MAF variants also available through Tuff Car Parts.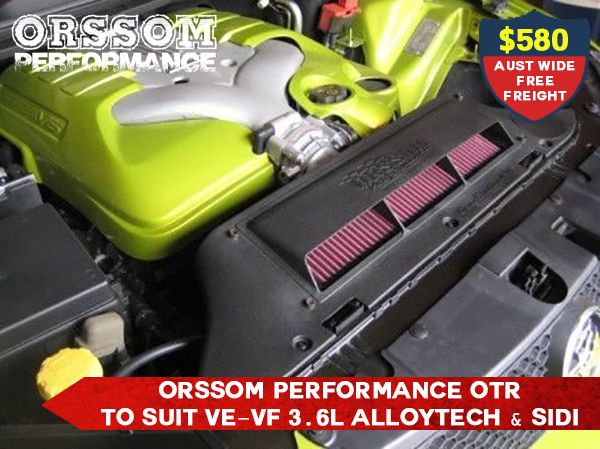 Easily the best V6 OTR on the market today.A perfect blend of performance, gorgeous looks and by far the easiest OTR to fit and clean.
Unlike many of its competitors, the Orssom OTR does not require the radiator to be laid back, or any cutting or lengthening of electrical wires.
Another unique feature is the ability to remove the top plate of the intake to remove and clean the K&N filter without having to remove the entire unit, which is par for the course with every other offering.
V8 MAF and MAFless variants also available through Tuff Car Parts.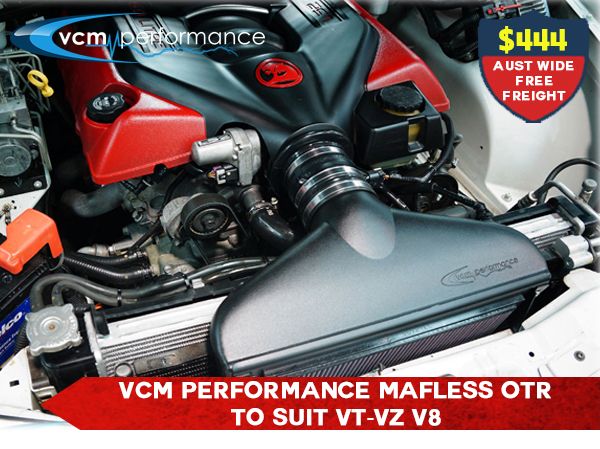 The VT-VZ intake market is awash with cheap alloy or brittle fibreglass OTRs from China, which promise the world but instead end up looking rough and simply cannot perform as promised - and there's a reason why they're so cheap.
VCM Performance have led the way with their injection moulded VT-VZ OTR to give you a premium option for the early model Holdens. You will know where that extra investment went with the incredible performance and super clean look. Easily our preferred early model intake.
MAF variants also available through Tuff Car Parts.
For further information, pricing or to place an order, please see our store below:
http://stores.ebay.com.au/Tuff-Car-Parts