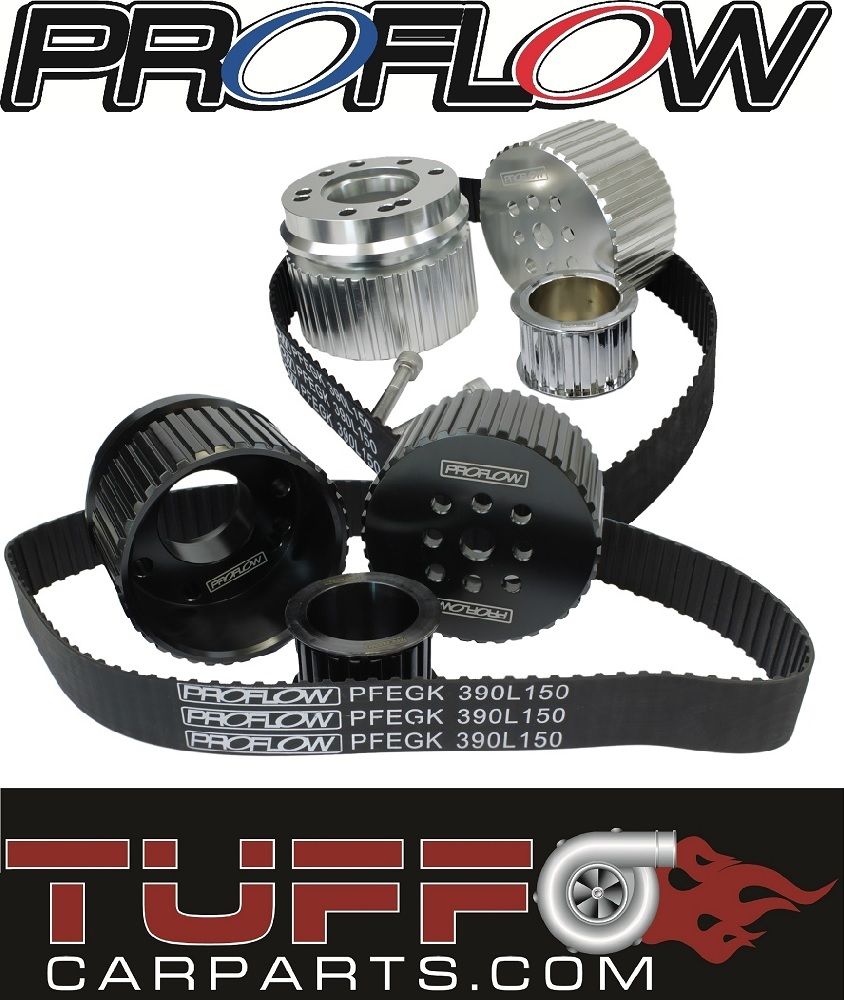 Hi All,
PROFLOW PFE GILMER BELT DRIVE KITS
In stock now at Tuff Car Parts!
Small block Chev, Big Block Chev, Holden 308, Big Block Ford, Windsor & Cleveland kits in stock!
Bargain pricing of only $169.99 - don't pay more elsewhere!
The Proflow Gilmer belt drive kits come complete with crank, water pump and alternator pulleys. Included with the kits are stainless bolts and a high quality Proflow belt. Made from machined alloy to precision specifications and available to suit most engine applications.
Get that distinctive gilmer belt drive sound for your beast!
Available in Polished & Stealth Black finishes - all for only $169.99 inc GST
In stock now for:
Ford 289 302 351 Windsor
Ford 302 351 400 Cleveland
Ford Big Block 429 460
Holden 253 308
Chev Small Block 283 307 327 350
Chev Big Block 396 427 454
• Suitable for street and strip applications
• Pulleys are fabricated from billet machined 6061-T6 alloy
• Strong anodized for hardness and maximum life of your gilmer pulley teeth preventing slipping and wrecked belts
• 1 x Crank pulley, 1 x Alternator pulley, 1 x Water pump pulley
• Supplied complete with stainless steel crank pulley bolts
• Proflow gilmer belts are designed with extra nylon webbing making them thick for superior performance and durability
• Crank pulley features a V belt groove for most models which you may utilise to drive a power steering or air conditioning belt
• 100% billet construction, beware of cheap copies
We carry the full Proflow range! Please contact us for further info.
For specs and further info, please click following link:
http://www.tuffcarparts.com/index.ph...ath=180_65_189
Thanks,
Justin.
Tuff Car Parts
www.tuffcarparts.com